Andrew Ashby
About Me
Hello! I'm a 17 year old senior from Mount Vernon High School. I play Golf and am also involved in Youth & Government and National Honor Society. Outside of school, I work at a golf course and enjoy spending time with my friends.  I think CEO is a great chance to learn a lot of business lessons the easy way rather than the hard way. I joined CEO because I want to learn as much as I can about starting a business so that I can start my own one day. 
About My Business
A&L Hypewear
Grant Lisk & Andrew Ashby
Email-aaglresell@gmail.com
"We provide the Hype"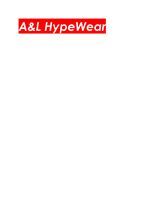 A&L Hypewear is a company that re-sales  limited hype ware clothing from various high-end brands. Due to the popularity of the brands we sell, the supply for these products does not meet the demand.   The missionof A&L Hypewear is to provide hype wear clothing at market price.  The vision of A&L Hypewear is to expand our business into our own hype clothing line to be sold on our own website.  The market for hype wear is primarily higher income consumers from all around the United States.