Madison Bock
About Me
Hello! I am a 17 year old senior from Waltonville High School. I am a member of the Waltonville Lucky Leprechauns 4-H club, the Waltonville High School golf team, FBLA, BETA, Student Council, and FFA as a section officer. I have been raised on a dairy and crop farm my entire life and hope to further my education in the area of agriculture. I believe CEO will be beneficial to myself and the other students by giving us the opportunity to meet business professionals, listen to their experiences, and introduce us to the tools necessary to start our own business here in Jefferson County.
About My Business
Mandala Drifts
Madison Bock
(618)-314-6054
"Renovating Natures Best"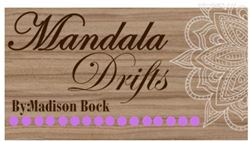 Mandala Drifts is a sole-proprietorship company that revives vintage goods and outdoor products from the local area to create unique drift wood, mandala painting home décor, and succulent indoor cacti plants. Mandala Drifts hand-crafted products will be a huge success in the rural counties and farmhouse communities of Southern Illinois. At Mandala Drifts, we strive to refresh natural products with a touch of original design.