Torean Moore
About Me
Hello! I am 17 year old senior from Mount Vernon Township High School. I am involved in CEO, Youth & Government, and Football. Outside of school, I really enjoy spending time with my family and friends. I think that CEO is a really good way to connect with others, branch out, and find out who you really are. I joined CEO to make great connections, see what's it like, and get a start to my success. 
About My Business
Moore For Less
Torean Moore
618-315-2242
"When they Leave a Mess, Call the Best"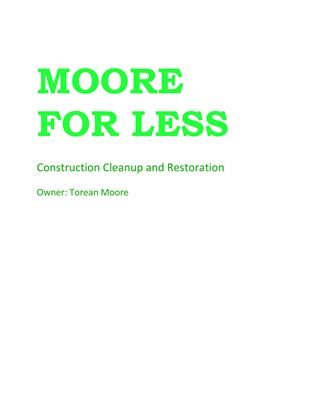 Moore For Less is a sole proprietorship that provides cleanup and restoration services to contractors, business owners and home owners in the local area.  Moore For Less will target new construction sites, house remodels, and business renovations.   We are also open to smaller clean up jobs including house cleaning, gutter cleaning, and pick-ups.  At Moore for Less, we strive to be the trusted local source for clean-up and restoration, no matter how big or small the job may be.  So, when they leave a mess, call the best. Moore For Less.